Certified v10
Certified v11
Certified v12
Certified v13
Certified v14
Our Odoo Expertise for Companies and Partners.
For Companies


Digitalize your company and boost your productivity. Are you looking for implementing an ERP system (Odoo), to write your Company Specifications or you need expertise in IT project management ?, we are here for you.

For Odoo Partners


Because we're more efficient together. You'd like to train on Odoo , learn the best practices of the implementation methodology or you need help to start your projects ? We can help you.

You have a Project?
Let's discuss it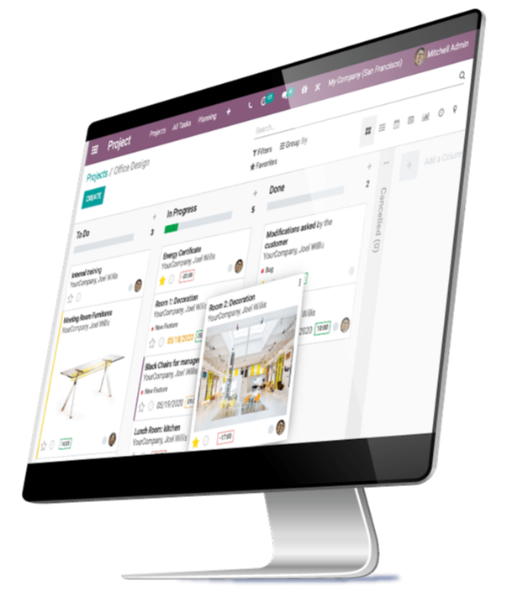 Christophe Ricevuto
Project Manager
Christophe has been a Functional Consultant at Odoo S.A. since March 2017, before which he worked in the IT sector as Reporting Analyst and Web developer. As a Functional Consultant, he has implemented a number of Odoo projects for various international customers from different business areas, and also became Team Leader and Presales Coordinator.

Benjamin Gautier
Project Manager
Benjamin joined Odoo S.A. in 2014 as a Functional Consultant, mostly focusing on large accounts and projects, and shortly after he joined the Quickstart team with Version 7. He has worked on numerous projects around Europe, which is evident from his outstanding functional knowledge. This led to him becoming a Team Leader, after only a few years in the QuickStart department and then Onboarding Coordinator.
Camille Cocquereaux
Business Analyst
Camille holds a master degree in business engineering at UCL. She started her career as a logistics employee for a European Distribution Center in a international company, and she became manager in her department after a few months. This experience allowed her to work on multiple projects such as implementing new processes, KPI tracking and introduction of new products. She joined Nalios in February 2021 as a Business Analyst.

11 Years of Experience Combined
Implementing Odoo Projects

50 + Implemented
Projects
Proven Methodology

Personnalized
Support
And Tailor-made